I am personally ecstatic that Pantone has named Radiant Orchid the color of 2014. Now I do like to think that my job is staying ahead of the trends and as designers, we use color like crazy and it completely varies from client to client.
However, with this new public enlightening of this lovely pinky purple color (one of my personal favorites) I am hoping I can more easily persuade clients to be a bit more bold. Up to this point, I have only used it in the 2011 Lake Forest Showhouse and Gardens and also my own powder room in Chicago.
A perfect example of no color really being "new" to designers is the brilliant colorist Jamie Drake. He has mastered radiant orchid many times over.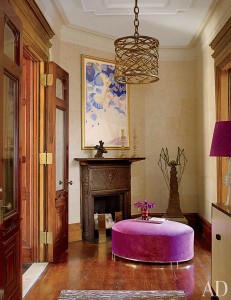 What are your thoughts? Are you willing to go pink??
I am hosting a Christmas Brunch and thought it would be a fun way to use this color in small doses...beginning with this lovely invitation from Oscar de la Renta via Paperless Post.